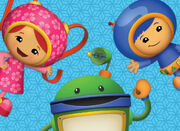 Lyrics
Announcer: Calling all Umis! Team Umizoomi!
Team Umizoomi: One, two, three, four!
Umi! Zoomi! Umi!
Umizoomi (x2)
Bot: In a world that's not so far away
Team Umizoomi: Umi City
Bot: You can count on us to save the day
Team Umizoomi: Umizoomi(x2)
Milli: We can measure
Geo: Build it together
Milli: You can help us
You're so clever
Bot: We've got Mighty Math Powers,
Team Umizoomi: You can call us any hour!
Bah-da-da
Bah-da-da
Bah-da-da
We are a tiny team
Bah-da-da
Bah-da-da
Bah-da-da
We go behind the scenes
Bah-da-da
Bah-da-da
Bah-da-da
There's nothing we can't do
Milli: Milli
Geo: Geo
Bot: Bot
Team Umizoomi: And you!
Ad blocker interference detected!
Wikia is a free-to-use site that makes money from advertising. We have a modified experience for viewers using ad blockers

Wikia is not accessible if you've made further modifications. Remove the custom ad blocker rule(s) and the page will load as expected.